The NHMRC Country Heart Attack Prevention (CHAP) Project in partnership with the Integrated Cardiovascular Clinical Network SA (iCCnet SA) and Brentnalls Health have developed a business model for primary care to provide cardiac rehabilitation (CR) to their patients.
This business model places the GP at the centre of the model of care by coordinating, monitoring, and assessing the patient's progress.
The business model has been reviewed and approved by Medicare. In fact Medicare reported the business model uses under-utilised item numbers.
It utilises the Medicare items that will result in better health outcomes for the patient and economic benefit to the practice of nearly $800 per patient.
A virtual information event was held on Tuesday 25 October 2022. To watch recording, click the picture on the right.
For more information including the full business model, go see PDF version
If you have any questions of queries please do not hesitate to email us directly CHAPproject@flinders.edu.au or norma.bulamu@flinders.edu.au
HEART HEALTH FOR LIFE
Cardiac rehabilitation (CR) is only attended by 20-50% of eligible patients despite high level evidence that supports its benefit and cost effectiveness. Research on the reasons for non-attendance have cited cost, access to rural and remote, cultural, and linguistic barriers. Giving patients a choice in the way cardiac rehabilitation is delivered to them is important to their motivation to successfully complete a program of cardiac rehabilitation.
In collaboration with the Integrated Cardiac Clinical Network (iCCnet), Country Access to Telephone Cardiac Health (CATCH) and Brentnalls Health, we have developed a business model based on integrating current care to support the option of patients receiving their cardiac rehabilitation through their primary care.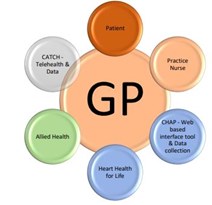 The business model for CR programs place the GP at the centre of the model of care by coordinating, monitoring, and assessing the patient's progress.
It utilises the Chronic Disease Care Planning MBS items that are well known to GPs.
GPs are required to complete 4 clinical assessments at 1-2 weeks, 8-12 weeks, 6 months and 12 months post discharge:
For more information, you can download the full business model report (initially developed in 2020), along with the presentation delivered to Rural GPs (delivered at the RDASA Masterclass 2022) and the handout that has been updated with the latest MBS items in August 2022.