ABOUT CHAP PROJECT

Historically, cardiac rehabilitation (CR) has been delivered face-to-face to groups in acute hospitals or community centres. The content and length of CR programs varies considerably in Australia and national quality indicators are yet to be implemented. Alternative methods for provision of CR have been shown to be effective, but few have been implemented into practice.

Therefore, we would argue that the evidence for strategies to modify risk factors is strong but the evidence for the mode of delivery has become outdated.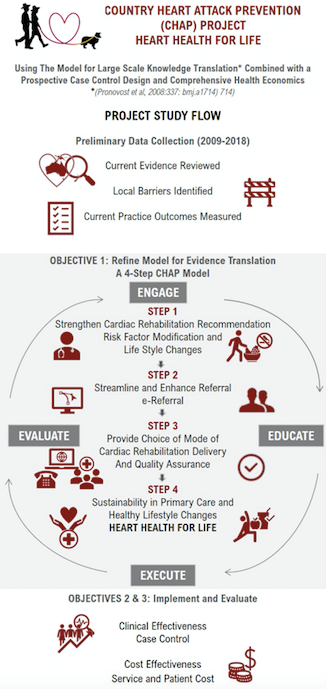 The Country Heart Attack Prevention (CHAP) project will use a translation methodology
combining a prospective case control design with a Model for Large Scale Knowledge Translation
and comprehensive economic evaluation to implement evidence-based CR into
rural and remote practice.
  endorsement of CR by clinicians
  an auto-referral system
  a choice of mode of delivery and
  long term support for heart health from primary carers



In this project we will implement the CHAP model in February 2021 and evaluate the clinical and cost effectiveness
in 2022 and 2023.

We hypothesize that patients receiving CHAP will have higher rates of attendance and completion of CR; higher rates of risk factor modification higher rates of evidence base pharmacotherapy and experience lower rates of morbidity and mortality at 30 days and 12 months and the model will demonstrate cost effectiveness for both services and patients.