The problem
The RECOMMEND project of the Country Heart Attack Prevention (CHAP) program led by Professor Robyn Clark, aims to improve clinician endorsement and recommendation of cardiac rehabilitation. Cardiac rehabilitation is recommended for patients who have suffered a heart attack, heart failure, atrial fibrillation, or heart surgery.1 It is an individualised program of 6 weeks duration which delivers exercise, education, and psychosocial support by an expert multidisciplinary team.1 Despite well-established evidence,2 cardiac rehabilitation referral and attendance continues to be underutilised, 3 with multiple factors identified for non-participation.4 One clear predictor of a patient's positive attitude toward attending cardiac rehabilitation is clinician endorsement.4 We aimed to make a health promotion endorsement tool which can be used in a variety of contexts.
What we did
A Video Wall is a large-scale ultra-resolution digital display that joins multiple pictures to create one large screen. Flinders University Frankie Films Productions and CHAP teams joined forces to invite 135 clinicians and consumers to participate. We set up an online platform where participants could book to have their video recorded or gave instructions on how to record on their smartphone.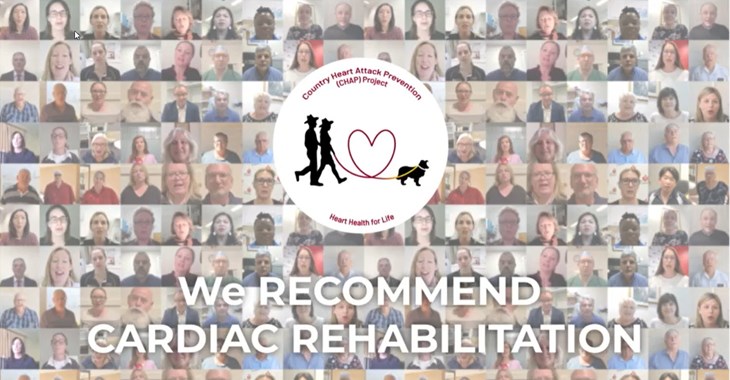 With approval from ethics and participant media consent, we sent participants a message script guide and invited them to develop their own message of about 1-minute duration. Frankie Films then made the individual videos into the video wall, delivering 10 short 50 sec and 5 long 9 min video wall productions.
Outcomes
We will use the various video wall formats in our health promotion activities for CHAP, using websites, social media, presentations, forums, and conference display mediums. We will also share with our CHAP partners for wider distribution.  In all, 32 professionals and 15 consumers helped us make the wall, a diverse group of cardiac rehabilitation participants, cardiologists, nurses, physiotherapists, pharmacists, researchers, health service coordinators and health promotion experts and we thank them for their enthusiasm and contribution.
 References
Woodruffe S, Neubeck L, Clark RA, Gray K, Ferry C, Finan J, et al. Australian Cardiovascular Health and Rehabilitation Association (ACRA) core components of cardiovascular disease secondary prevention and cardiac rehabilitation 2014. Heart Lung Circ. 2015;24(5):430-41.2.
Anderson L, Thompson DR, Oldridge N, Zwisler AD, Rees K, Martin N, et al. Exercise-based cardiac rehabilitation for coronary heart disease. Cochrane Database Syst Rev. 2016(1):CD001800.
Astley CM, Chew DP, Keech W, Nicholls S, Beltrame J, Horsfall M, et al. The Impact of Cardiac Rehabilitation and Secondary Prevention Programs on 12-Month Clinical Outcomes: A Linked Data Analysis. Heart Lung Circ. 2020;29(3):475-82.
Gallagher R, Neubeck L, Du H, Astley C, Berry NM, Hill MN, et al. Facilitating or getting in the way? The effect of clinicians' knowledge, values and beliefs on referral and participation. Eur J Prev Cardiol. 2016;23(11):1141-50.